Hi, I'm Patrick Conley
I help online businesses grow through automation marketing, so that your marketing works when YOU don't want to, and you have freedom to build the business of your dreams.
What would your life feel like if you could go on vacation without your laptop? What if you could unplug without shutting your marketing down?
Using amazing tools like Infusionsoft, I can help you leverage your time so that you can focus your time on what you're BEST at – spreading your unique gifts and personal message to your audience – without feeling that you've lost a personal touch.
Is Your Business Ready For Infusionsoft?
Check out my free guide: 5 Indicators That You're Ready for Infusionsoft (And What To Do If You're Not!)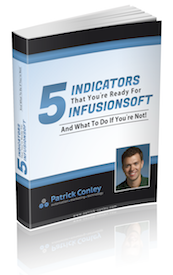 Assess your current business and find out if

Infusionsoft

is the right tool for you to grow.
You'll also receive some great tips on getting the most out of Infusionsoft, marketing, and technology for your business!